19/01/2015
Artist Maxim CAST. Fotoakkumulyatsii.
Artist Maxim CAST (Maxim Ksuta)
CAST Maxim was born in Moscow in 1971. In 1994 he graduated from the Moscow Aviation Technological University named after KE Tsiolkovsky.
At the same time he began to take lessons in drawing, watercolor drawing and painting the body.
In 1995 he completed his postgraduate studies at the Moscow Aviation Technological University named after KE Tsiolkovsky.
Lives and works in Moscow.
Now: Svoboda. Palazzo Zambeccari, Bologna, Italy
Maxim CAST suddenly made collage, portrait, historiography. The work consists of nine small photos - art from cave paintings to postmodernism. At the distance of the image formed in portraits of artist friends.
"I did fotoakkumulyatsii. These are portraits of people, each of which is composed of more than 600 photographic reproductions of paintings, sculptures and pieces of architecture. They are grouped by ages - from antiquity to the present day, in accordance with the person's age: childhood, adolescence, youth, and so on. D . at some distance from the work, the viewer sees a portrait of a character who, in my opinion, corresponds to a certain era of art. this completes the cycle of Totenkopf, as a symbol of the eternal question: "What's next, to be or not to be?" or maybe it's a symbol eternal peace and eternal, for living form no longer exists? I'd like to find some regularity. I noticed that in the XX century living form of art destroyed, abraded. and that is brewing something new. "- Maxim CAST (Maxim Ksuta).
read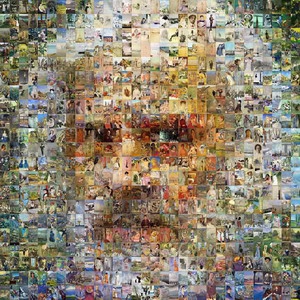 Impressionism, photo compilation
Archaic, photo compilation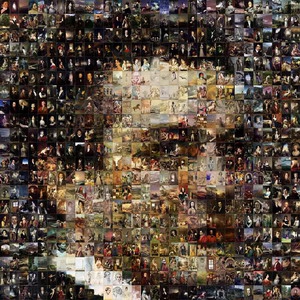 Romantism, photo compilation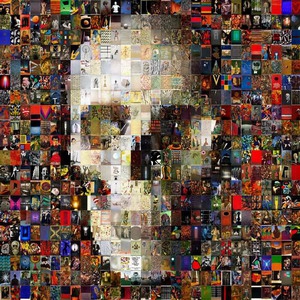 Modern, photo compilation
Antiquity, photo compilation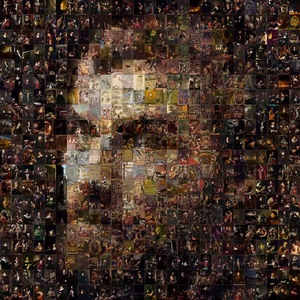 Barocco, photo compilation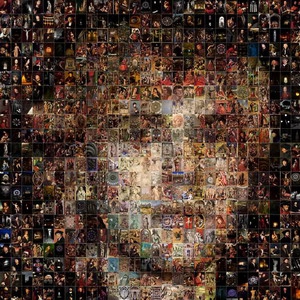 Renaissance II, photo compilation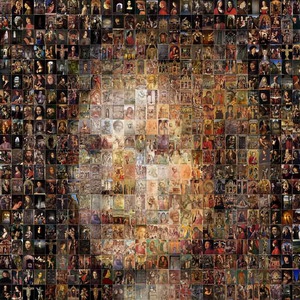 'Gothic I, photo compilation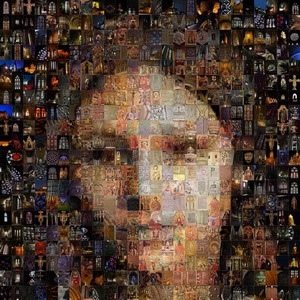 Gothic II, photo compilation
Maxim CAST - an amazing person, it combined the mathematical precisely organized consciousness and subtle mental attitude that allows you to capture vibration inaccessible way that actually makes him a great artist. But he is also a philosopher, and part of the ascetic, if you look at his work through the prism of the life he lives.
Before you go to the paper, he falls into a special condition: it is necessary to make a reservation at once - without technical and drugs. This is his ritual, his ministry, he enters into a state of sheer force of will and strength nadmirnogo called to process.
By Caroline manuscripts and Rabanus Maurus through mystical drawings "flaming" Gothic line goes to the mirror cryptography Leonardo and Masonic ciphers 18-19 century, to strange cryptograms Russian mystics - Illuminati ... and beyond - to what makes CAST.
This cryptography and yavnopis, the very message that emerges through the lines of the image. "Name of the Rose" and "The Club Dumas" - all connected in this unusually elegant history, and this is another important part of his art - traditionalism, which is very important for an artist
"Encrypted drawings" by Maxim CAST created with abstract cursive are large sheets of paper on which ink is applied abstract cursive.
"I wanted to be on the verge of sense to the viewer could freely, no matter what without interruption, to make a trip inside the world of words" - Maxim CAST.
Site